Time is recorded by an electronic timer that counts starting at the initial "beep" that signals the shooter to start. The timer uses the muzzle blast noise to count the interval between shots and record the last shot time. When the shooter has concluded, this "raw" time will be noted on the score sheet. The targets are scored and "hit" times are added to the raw time as follows (reference the target below):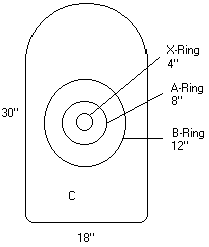 "X" and "A" hits add zero seconds, "B" hits add 1 second, "C" hits add 2 seconds and "Mikes" (misses) add 5 seconds per occurrence. If the stage has steel targets, then each missed steel will also add 5 seconds. Failing to comply with the requirements of the stage, such as shooting with the wrong hand or from the wrong location, are called "Procedurals" and add 5 seconds per occurrence.
Some stages use a fixed "par" time in which the first beep will be followed after a preset interval by a second beep which signals the shooter to stop. Shots fired after the ending beep incur a 10 second penalty per shot! Usually, the shooter may use as many rounds as needed to hit the targets, but there are also "shots limited" stages which restrict the number of rounds. In that case, firing additional rounds is a procedural penalty. Targets may also be partially obstructed by "hard cover" which is signified by black paint. Hits on the hard cover area are considered to be a miss. "No Shoots" are sometimes placed on the course of fire to increase the difficulty. No Shoots are typically white and incur a procedural penalty per hit if they are inadvertently shot.
For variety, the course designer may also allow "X" hits to subtract time from the "raw" time. In that case, the diligence to shoot very accurately and hit the exact center of the target is rewarded appropriately.
Total stage score is the "raw" time plus any added times for B and C hits and Misses, plus any procedurals and No Shoots. It's just like golf - lower is better. Open and Limited are scored separately. The minimum total time for all the stages earns first place in the Open or Limited division, and the remaining Open or Limited shooters have their score calculated as a percentage of the best score. To see how that works, look at this month's Revolver scores.